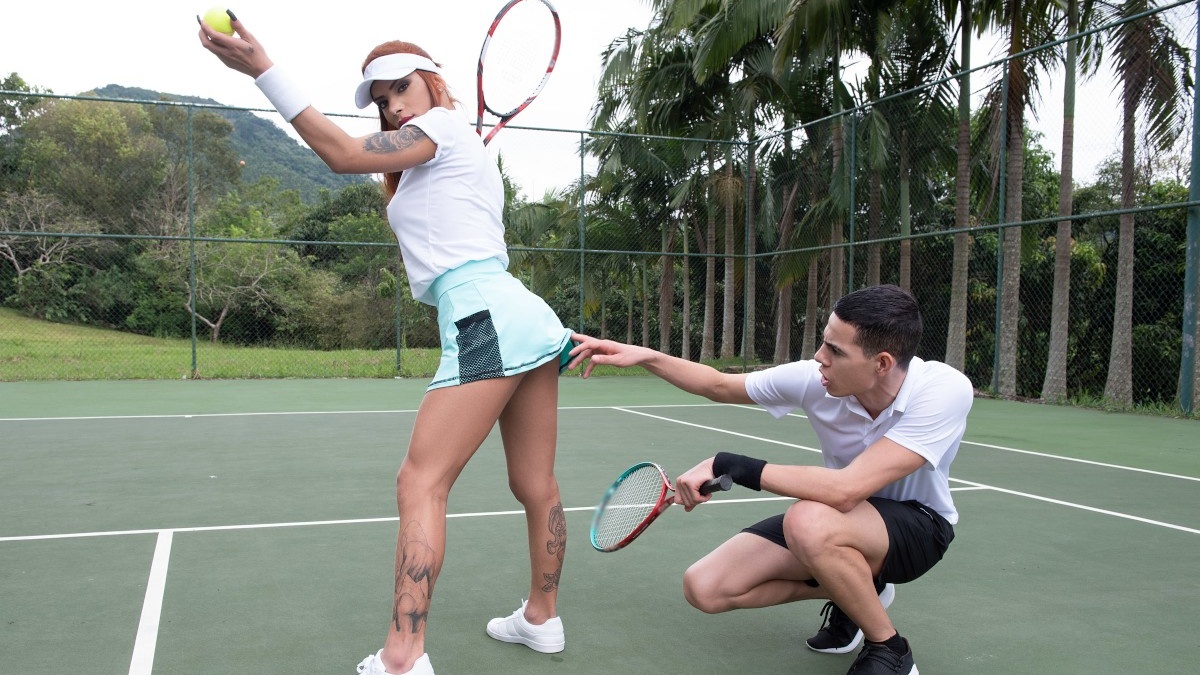 Playing a friendly match of tennis with her friends, redhead shemale Marcelle Herrera starts to feel a little tingling beneath her short skirt. She came here with her BFF and a couple of handsome young men that they have been hanging out with recently. While the match isn't exactly a competitive one, the breaking of youthful sweat around her, and the energetic atmosphere she's in, is making the athletic tranny feel a certain way that she can't really explain. Nevertheless, the stroking of the ball continues as it moves back and forth between the two pairs. As the final set drags on for much longer than of the participants expected it to, their performance understandably begins to dwindle. This culminates in a poorly-planned return on Marcelle's part, one that makes its way straight into the balls of the unsuspecting man on the opposite side, Pyetro.
Barebacking redhead shemale Marcelle Herrera until she cums
After the accident temporarily neuters the young man's ability to carry on with the match, everyone agrees to just call it a tie and take a much-needed break. While rehydrating themselves and replenishing their strength, Pyetro notices that redhead shemale Marcelle Herrera is acting quite strange, almost as if she's trying to seduce him with every move she makes. His assumption is not far from the truth. The sexy TS is really feeling bad about what she did to his nuts, unintentional as it was. She would really like to make it up to him somehow, and she has the perfect idea for compensation. Once the two pair up for the next match, Marcelle starts pressing her tight ass against Pyetro's package, turning him hard in an instant. Feeling weirded-out, their two friends leave the field right away, allowing the two all the freedom to enjoy each other's bodies.