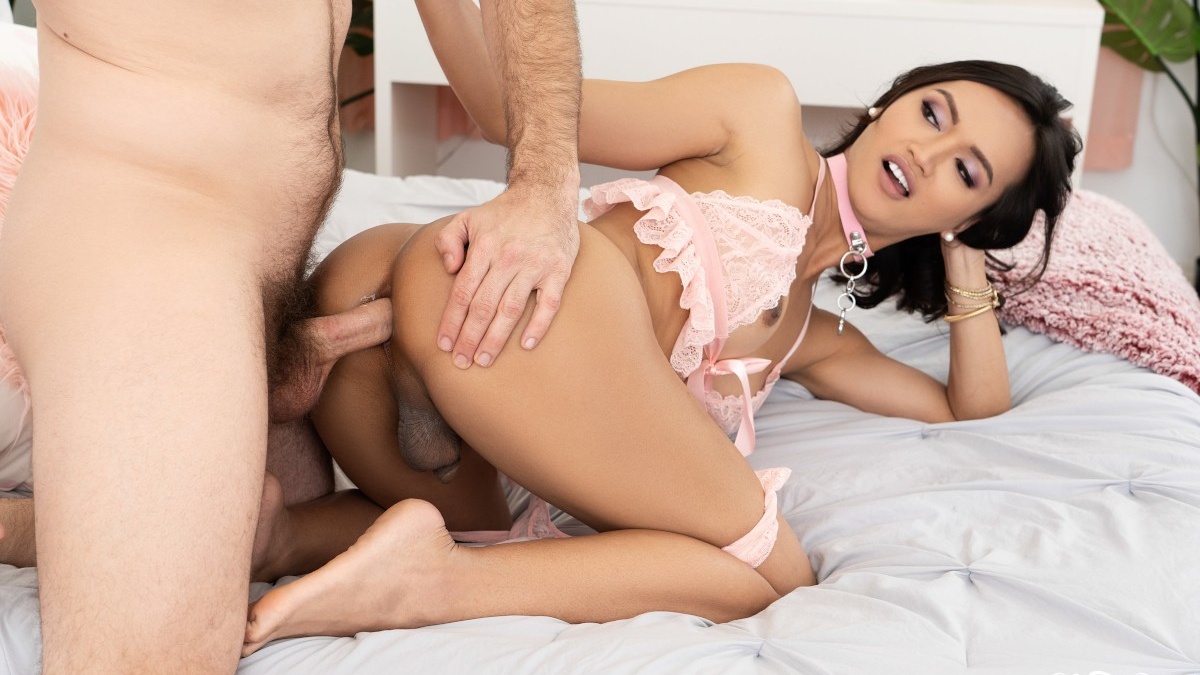 Wearing an absolutely adorable pink dress, ladyboy Andrea Zhay is talking to her boyfriend Joel Someone on the phone. She has noticed that he's been spending a whole lot of time on pet store websites. From accessories to pet food and everything in-between, it is impossible to tell exactly what Joel had been looking for with all the items he's checked. Happening upon her man's browser activity by chance (or so she claims), the secy East Asian tgirl is not only intrigued but very excited. And with her birthday coming up soon she started to wonder. Could it be that her loving partner is preparing a surprise for her? A cute puppy for his sweet GF perhaps? Or maybe a kitten, so the house can finally have some pussy in it. The anticipation and curiosity are killing her! One way or another, she simply has to know.
A bareback surprise for ladyboy Andrea Zhay
While the oriental shemale first considered snooping around and looking for more clues on her own, she realised that acting like a nosy girlfriend who doesn't know her limits, would be disrespectful to her significant other. And sometimes, the easiest way to have your questions answered is to simply ask. Thus, ladyboy Andrea Zhay goes ahead and calls the man with the secret. She asks Joel about his unusual Internet searches and whether he really intends to get a puppy for her. He responds by bringing over a pink leash that matches Andrea's dress, letting the hot TS know that there definitely will be a new pet in the house, and all she has to do to see it, is look in the mirror. Happy with her new role in the relationship, the trans Indonesian girl spreads her cheeks and lets her master ram her tight ass completely raw.