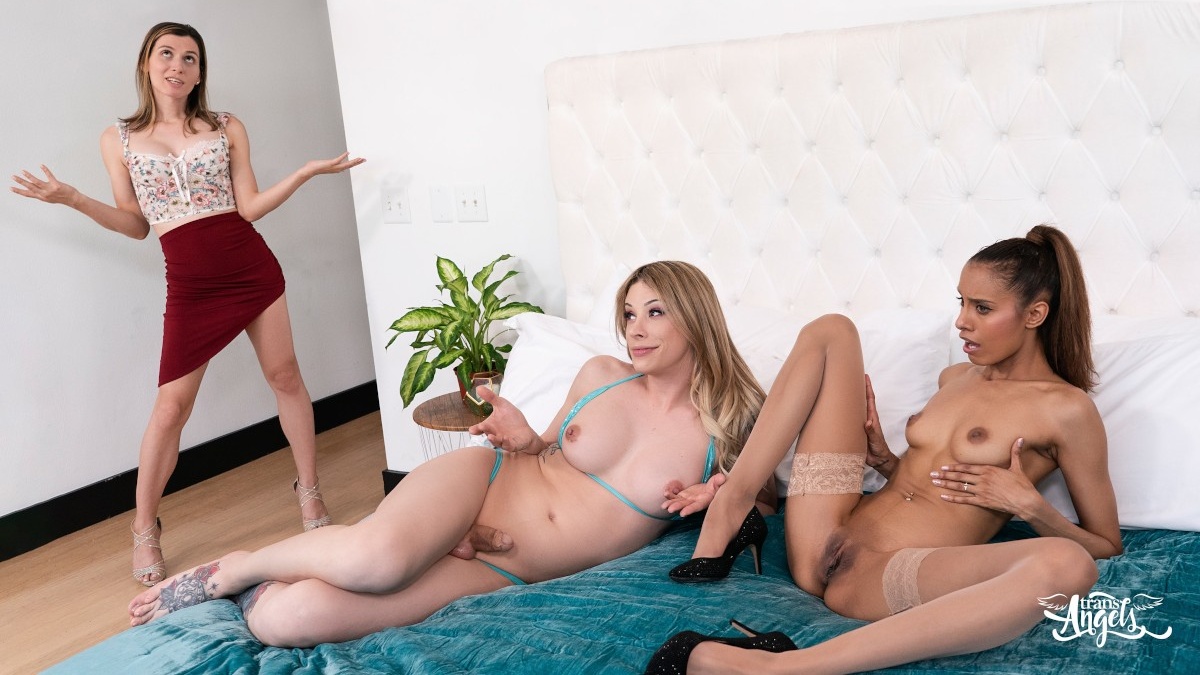 When she agreed to spend the night at her GF's place this morning, young black cutie Kylie Le Beau had no idea she would end up in a hot shemale threesome with babes Korra Del Rio and Casey Kisses. This is her first time ever dating a trans girl, and while getting to ride a hard cock while still being a lesbian sure sounds like a great deal, the dark-skinned teen has not had much luck in that department so far. Both she and her partner are always so busy that they are barely around each other, and whenever they do get to hang out, someone is always third-wheeling any potential naughty fun away from them. Kylie hopes her luck will change tonight though. She gets to spend some quality time with Korra at home without having to worry about anyone interrupting their long-awaited first time.
Kylie enjoys a hot shemale threesome with Korra and Casey
Within minutes of entering the living room and locking lips with her TS girlfriend, it becomes painfully obvious to the sweet ebony just how optimistic she was about not facing any disturbances tonight while being intimate. Not only does Korra receive an important phone call in the middle of snogging and is forced to leave her lover all on her lonesome, but Kylie also finds out that it's not just the two of them in the house like she expected. Her GF apparently has a flatmate who also happens to be a tgirl. Her name is Casey Kisses. Just like any other stranger would, Casey decides to introduce herself to her BFF's new partner by walking into the living room with nothing but a skimpy bikini. One thing leads to another, and Kylie Le Beau suddenly finds herself a part of one hot shemale threesome with two sexy trannies.