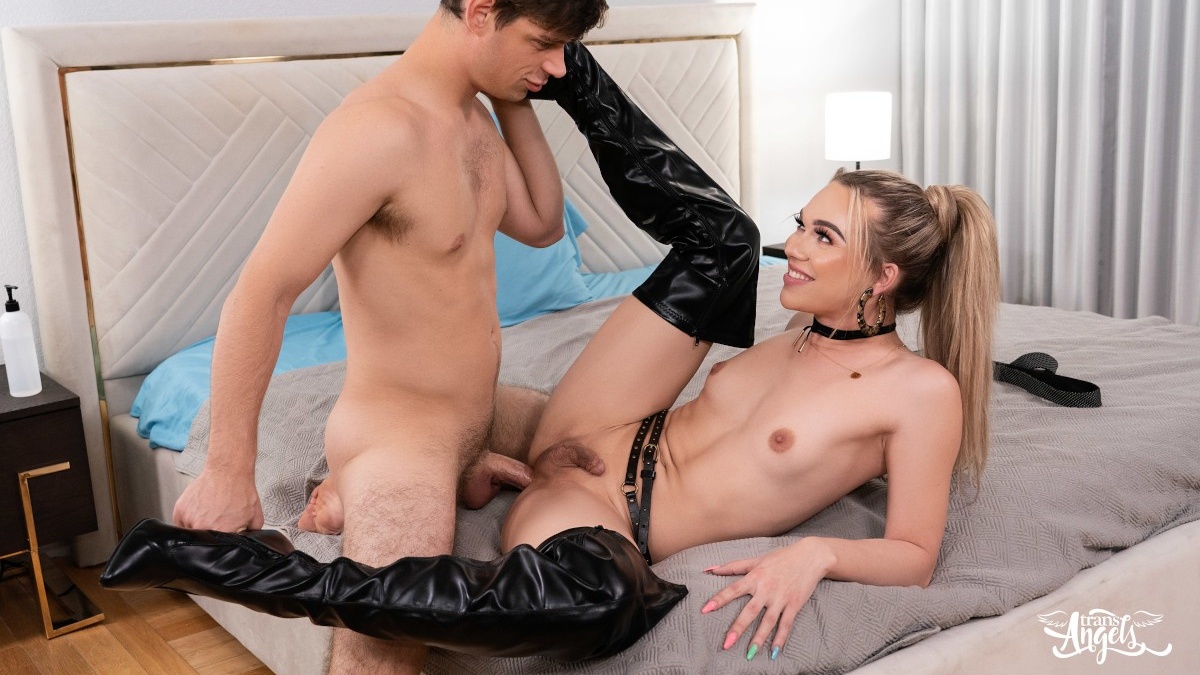 Wearing seductive satin pajamas, blonde TS Emma Rose is sexting her ever-horny boyfriend after a long day at work. Posing like an experienced temptress for her phone's camera, she takes one shot after another of her delicate trans body. She works her way down as she exposes her intimate parts bit by bit. First revealing her sweet small breasts and finishing off with some arousing booty pics. There is only one issue however, that last photo she took of her cute butt, well, she accidentally sent it to her boss, Michael Del Ray. Completely oblivious at first to the life-ruining mistake she just made, Emma eventually catches on to the career time bomb she just planted thanks to her negligence. After a short-lived panic phase, she quickly comes to the conclusion that there is only one solution that has any hope of saving her from the repercussions of her actions.
Hung boss drills blonde TS Emma Rose
What could the pretty shemale possibly do to reverse the situation she got herself in, before it is too late, you may ask? Well, by sheer coincidence (or perhaps cosmic intervention), her boss happens to live only two blocks away from her place. And her plan, dumb as it may sound, is to sneak into his house, hope that he hasn't seen the naughty selfies she sent by then, find his phone, and delete all of her messages before he has a chance to look at them. Thus, blonde TS Emma Rose dons a sultry black outfit and makes her way to Michael's. She soon realises that she was too late to act, when she finds her boss with his pants down, stroking his cock as he scrolls through her photos. Not the result she expected, but definitely one she can turn in her favour.