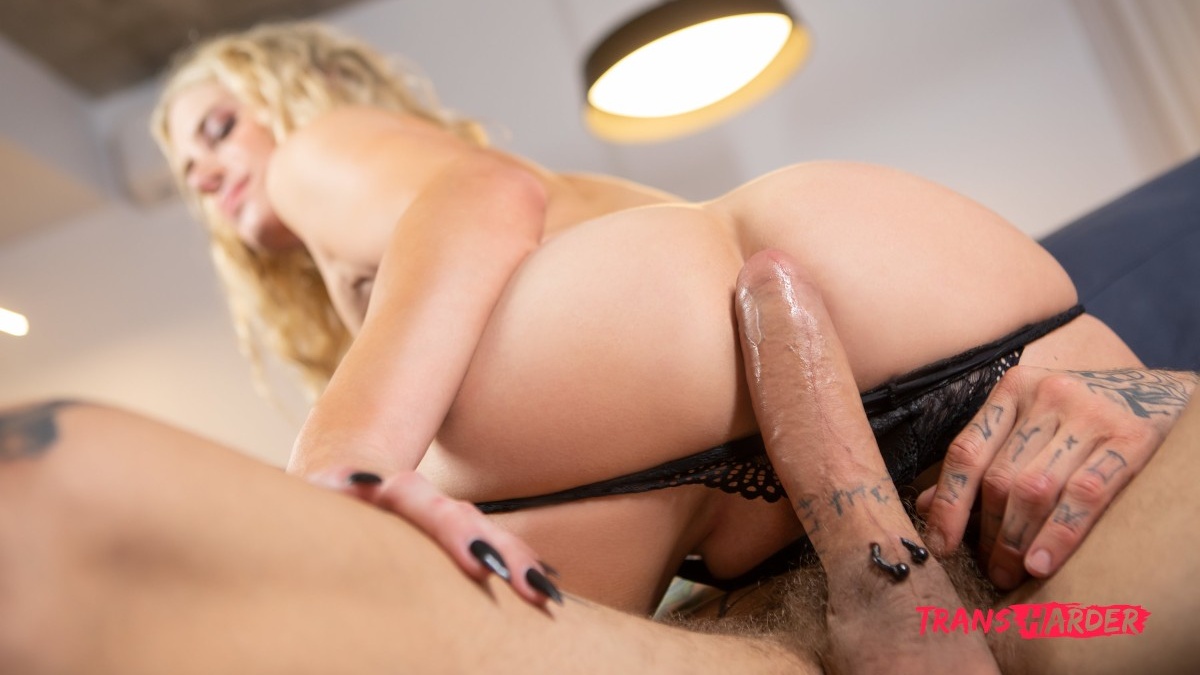 Inked womaniser Bo Sinn is playing a risky game while sitting right next to his GF, blonde shemale Nikki Vicious. What could he possibly be doing with his ass on the couch that could bring him trouble you ask? Well, how about texting every chick within a 10-KM radius and trying to set up hookups with just about every single one of them, with his phone directly in view of his long-time partner? Is it an act of madness? Is he trying to illicit a reaction out of her? Being with her man for as long as she has, and knowing him better than anyone, Nikki can easily attribute Bo's behaviour to sheer laziness and basically nothing else. He's such a sloth, that getting caught cheating on his lady when she's less than a meter away from him, sounds way less excruciating than having to put effort into being discreet.
An anal creampie for blonde shemale Nikki Vicious
Bo thinks he's being slick.. Actually he doesn't at all. He knows very well how dumb what he's doing is, and he is very aware of how badly it can backfire if his girlfriend so much as glimpses at the phone in his hand. He just can't be bothered to do anything about it. Well, shockingly to no one with remotely functioning eyesight and two brain cells to rub together, blonde shemale Nikki Vicious catches her BF in the act and confronts him on the spot about his unfaithfulness. The truth of the matter is, the tgirl doesn't really feel threatened by a few random slags competing for her lover's big shaft. She has a trick up her sleeve that is sure to always keep Bo in check. In fact, she will demonstrate that trick to him right now, and get some creampie in her ass while she's at it.